If you've searched "concierge doctor near me," you probably have some questions. Maybe you want to know a little more about concierge medicine, or maybe you're already familiar and just want to find the right doctor.
In this post, we'll talk about what makes concierge medicine unique, what to look for in a concierge doctor near you, and what areas of Florida our particular concierge office serves.
How Is Concierge Medicine Different From Conventional Medicine?
One of the best things about concierge medicine is the specialized attention it allows physicians to provide for each member. It's why our members love Griffin Concierge Medical and why our physicians love it, too.
In concierge medicine, doctors have far fewer patients, which means they can spend much more time with each patient on their roster. This is possible because of the membership model concierge practices use. When people join a practice as members, they pay a yearly fee that includes greater physician availability and a more personalized care plan than conventional practices are able to provide.
The idea of "on-call" doctors goes back to earlier times of medicine, where family physicians might do in-home visits and know each family member by name.
While most concierge doctors don't do home visits, the idea of personalized service remains: Concierge doctors spend enough time with their patients to really get to know them. The great thing about that? When a physician knows you on a more personal level, they can tell when something is just off.
Much like how a parent knows right away if their child is sick just by how they look and talk, a good concierge doctor knows their patients well enough that they can often tell right away when something isn't right with one of their members. And when things are feeling off, that's when they get to work investigating and addressing the root cause.
Three Pillars of Concierge Medicine: Relationships, Convenience, and Innovation
Nurturing Relationships
Strong doctor-patient relationships are important for ensuring members feel comfortable opening up to and trusting their physicians. In conventional primary care, doctors often don't even know your name unless they're reading it right off your chart.
Our health is very personal. For example, those struggling with mental health, addiction, or weight might not feel comfortable opening up to someone who doesn't know them as a person. They probably won't follow through on medical advice from that person either.
Health is also very individual. By keeping to a smaller number of patients, concierge practices can invest the time to discover each person's unique goals and work together to achieve them.
We believe in holistic health, which means treating the whole person, physically and mentally. We know our members' names and individual concerns. We want our members to feel comfortable sharing their real situation and goals so together we can create a specialized plan for every aspect of their health.
The Convenience of Concierge
Concierge physicians aren't overburdened with thousands of patients each; typically, they only have a few hundred patients, tops. This lighter load means they're able to offer much more specialized and frequent care.
For example, you might have to wait weeks to get in to see your conventional primary care physician, but most concierge offices offer same-day or next-day appointments. And if you need to reschedule, you won't have to wait weeks (or even months!) like you might with a conventional office.
One convenience some offices, like Griffin Concierge Medical, offer is a care coordinator.
Care coordinators keep track of all of tests, appointments, and care plans. They offer friendly phone calls or text reminders about what's coming up next so you don't forget — or they help you reschedule as needed. Think of them like a personal assistant for all things medical.
Concierge Doctors Are Innovative Detectives
Concierge doctors are a little like medical detectives.
When a member comes in with an issue, we don't just offer them medication or send them off to a specialist — or worse, brush it off.
We take an active interest in our members' health and in the most effective, up-to-date tools and tests to address their specific needs. We monitor members' routine screenings and blood work to watch for red flags, and we look for the root cause of symptoms and disease.
What Should You Look for When Evaluating Concierge Doctors?
Not every concierge doctor will be the right fit for every person. The values of each practice, both of the individuals in that practice and of the practice as a whole, will attract people with similar values and repel those with differing values.
To find the practice that attracts you, investigate what they stand for, their philosophy, and what they care about. If those align with your personal values, then you've found your doctor.
For example, if relationship, convenience, and innovation are important to you, then GCM would likely be a great fit. But if those aren't the values you're interested in, then another office might be better.
We also suggest considering what your biggest pain point with the conventional healthcare system is, and finding a doctor who can deliver on that.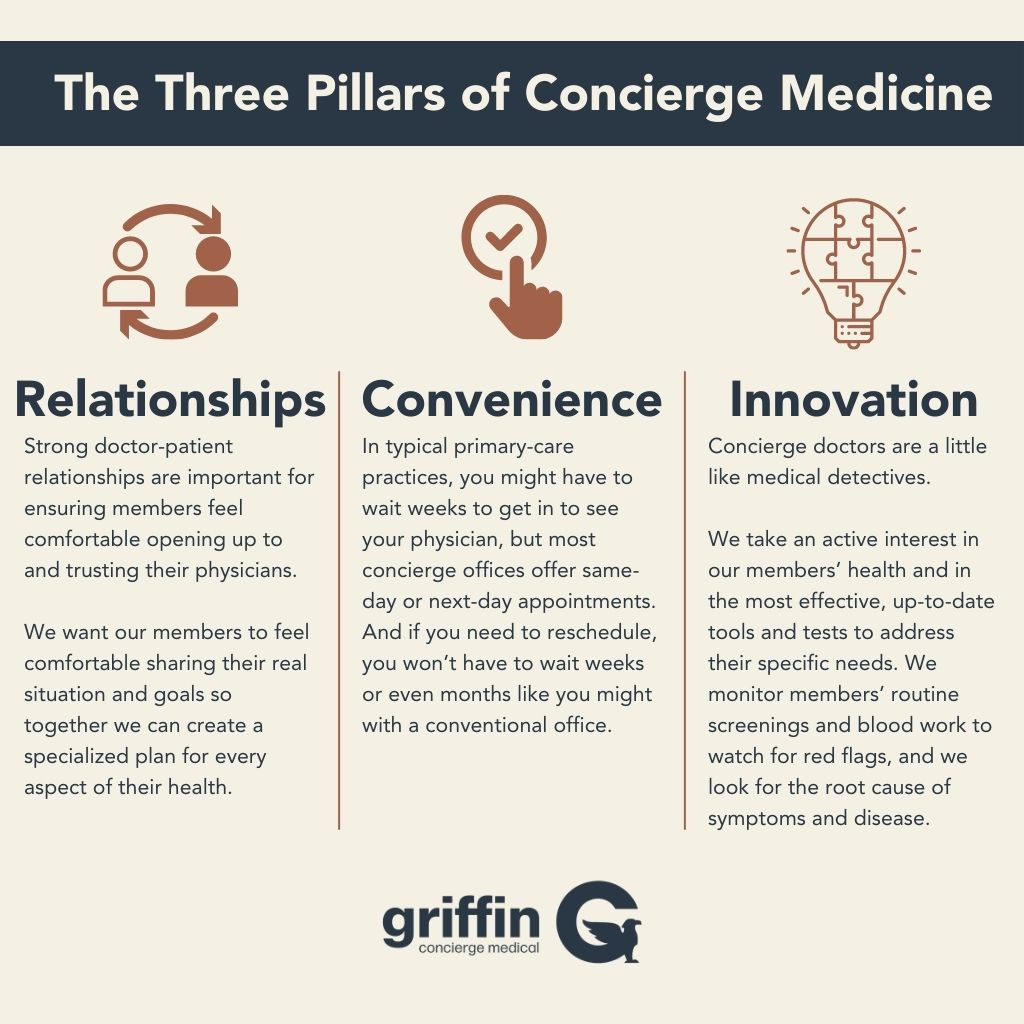 Proximity to Your Concierge Medical Office
Another factor to consider in your "concierge doctor near me" search is proximity. How close is an office to your home and/or work, and how easy is it to access? This makes a difference not only in the ease of making your regularly scheduled appointments, but also in taking advantage of spontaneous visits to your physician for unforeseen ailments.
When we first opened our office, the question we asked ourselves was this: What location would be most convenient to our members? That question led us to decisions such as:
Convenient location south of Kennedy, within a 7-minute drive for 80% of our members.
Convenient parking in front of our freestanding office with no need of a parking garage or valet.
Convenient access without elevators, stairs, or a shared lobby.
You don't want to navigate difficult parking or a confusing office building when you're sick, and you certainly don't want to drive an hour. Look for an office location near you that removes as many roadblocks as possible, making it as convenient as possible for you to see your doctor.
What Areas of Florida Does Griffin Concierge Medical Serve?
The GCM office is located in South Tampa near Historic Hyde Park, south of Kennedy. We're proud to serve all the surrounding areas, including (but not limited to):
Golfview
Davis Islands
Palma Ceia
Parkland Estates
New Suburb Beautiful
Virginia Park
Beach Park
Sunset Park
Bayshore Beautiful
We could have located our office in Downtown Tampa, but we chose not to. Convenience isn't just something we embrace. For us, convenience is something we intentionally strive to provide. We know that eliminating hurdles and making it as easy as possible to get care is what our members need to live their best lives.
All of us at GCM are passionate about delivering fantastic service to our community. We're excited to hear from people interested in joining our practice and would love to give you a tour!